Evaluating embodied conversational agents in multimodal interfaces
Computational Cognitive Science
2015
1:6
Received: 29 May 2015
Accepted: 10 August 2015
Published: 18 August 2015
Abstract
Based on cross-disciplinary approaches to Embodied Conversational Agents, evaluation methods for such human-computer interfaces are structured and presented. An introductory systematisation of evaluation topics from a conversational perspective is followed by an explanation of social-psychological phenomena studied in interaction with Embodied Conversational Agents, and how these can be used for evaluation purposes. Major evaluation concepts and appropriate assessment instruments – established and new ones – are presented, including questionnaires, annotations and log-files. An exemplary evaluation and guidelines provide hands-on information on planning and preparing such endeavours.
Keywords
User experienceUsabilityHuman-computer interactionEvaluation methods
Introduction
Speech is the most common way for humans to communicate, and thus it has been tempting to use speech as a modality to interact with machines for a long time. However, whereas human speech communication is normally multimodal, as it makes use of the auditory and the visual senses, speech as an interaction modality towards machines was mostly limited to the acoustic channel in the past. With the advent of Embodied Conversational Agents (ECAs) as a means to convey machine output, and with advanced possibilities to recognize speech not only from the acoustic signal, but also from lip and other facial information, which is conveyed visually and captured through cameras, this situation has drastically changed. Today, interactions between humans and machines can also take place in the form of a "dialogue" between a human and an ECA, where both interaction partners convey linguistic as well as extra-linguistic information through both the acoustic and the visual channel.
However, despite these abilities, the spoken interaction between humans and ECAs is still a very unusual way of interacting with machines. The reasons for the observable reluctance to using ECAs in multimodal human-machine interaction are multifold: Humans automatically convey extra-linguistic information such as information about their mental state, emotions, or social relationships, when communicating audio-visually via speech. Machines are commonly not able to extract and interpret these types of information in a reliable way. In turn, the abilities to generate such information on the machine side are still limited, and humans cannot always interpret machine-generated extra-linguistic information in the correct way. This mismatch is frequently at the origin of communication problems.
As a matter of fact, it has to be decided for each application anew whether the use of an ECA is beneficial in a multimodal human-machine interface, and whether it will enhance high quality, usability and finally acceptance on the part of the human user. Such a decision can only be based on a thorough evaluation of the ECA in the respective application scenario.
For evaluations, it is important to distinguish the concept of performance from the concept of quality. Whereas performance indicates whether a unit is able to carry out the function which it has been designed for, quality is the result of a human perception and judgement process, in which the human compares what s/he perceives against some type of internal reference, which has been built on the basis of experiences, expectations, and functional or social demands (Le Callet et al. 2012). Thus, quality is much more difficult to measure than performance.
Depending on the application domain, different performance and quality aspects may be important. For example, in a tutoring system it may be desirable to engage the user in a conversation which leads to a better understanding of the concepts to be tutored. Here, it may be desirable that the ECA is able to convey feedback about the correctness of user answers in a fine-grained way. In a game, the interaction between human and ECA may just need to be entertaining, thus joy of use may be a decisive factor. In contrast, in an information retrieval task, it is essential that the information is correctly exchanged between user and system, thus the efficiency of the exchange may be highly relevant. Finally, in a care-taking situation where the ECA is part of a care-taking robot, social aspects of the interaction (such as conveying empathy, provoking emotions, etc.) may be important, in addition to the assurance of correct care-taking functions.
The examples show that there will be no universal method to evaluate ECAs which are integrated into multimodal interfaces in all circumstances. Thus, appropriate methods have to be designed for the purpose at hand, and for each application scenario. It is essential that the used methods provide valid and reliable results, in that they address the correct target with minimum uncertainty of the measurement result. This article aims at providing the basis for selecting evaluation methods which fulfil these criteria.
The Review starts with theories which are useful for describing interactions between humans and ECAs, as well as phenomena which have been observed in such interactions. Section "Evaluation and assessment methods" then reviews common evaluation and assessment methods. Definitions and specific assessment instruments of quality aspects are presented in Section "Aspects of evaluation". These quality aspects or concepts have been organized in terms of a taxonomy originally developed for multimodal human-machine interaction at large, and tailored to human-ECA interactions. Finally, we provide guidelines for practically conducting experiments and studies, along with one exemplary evaluation of an ECA in order to illustrate some basic principles. More details can be found in the related literature listed in the Conclusion.
Theoretical foundations of evaluation
According to Scherer (
2004
), nonverbal information typically accompanies spoken interaction and can
substitute (e.g., nodding, shrugging),

amplify (e.g., simultaneously nod and saying "yes"),

contradict (e.g. unconsciously, or to signal irony), or

modify (relativising an utterance with a smile or gesture)
verbal information on a semantic level.
Consequently, numerous scientists are dedicated to producing such nonverbal signals for ECAs in a natural and situationally adequate way, as well as to recognize and process such signals originating from the users. Furthermore, usability studies and psychological or linguistic experiments are conducted which address the effect of such technological capabilities on the user and the conversation. In the following, major evaluation topics are presented, originating from communication theories and from psychological effects observed in face-to-face conversation.
Communication theories
One example of research on multimodal human-computer interaction (HCI) is the identification of systematic variation in users' interaction style between systems providing only spoken interaction and those providing also the visual channel (Oviatt 2008). For example, if users are aware of the capability to use nonverbal information, spoken content is likely to exhibit linguistic underspecification, which is solved with the support of nonverbal information and world or context knowledge.
This multidimensionality of information conveyed in face-to-face conversation is not covered by information theory (Shannon and Weaver 1949). One of the problems in applying this theory to face-to-face conversation is the assumption of a common code, which works for technical transmission of information, for which this theory was developed, especially for reduction of redundant information, but not in the case of HCI, as users are usually not aware of all capabilities (i.e. code) of that particular system. Also, the assumption of a purely symbolic and intentional communication neglects the continuous negotiation going on between interlocutors, also called grounding (Clark 1996), as well as unintentionally produced signals, which are useful to recognize the meaning and intention of a speaker and are therefore typically considered by the conversational partner.
Other communication theories do take into account multiple aspects of a message: According to Schulz and Thun (1981) a multimodal message comprises information about the sender (e.g. mood, age), the relationship (e.g. attitude, status), and the demand on something (perlocutionary act) apart from the factual information. Of course, the question arises, whether such aspects of a message are necessary for the interaction with a system, and whether users are motivated by an ECA to expect proper processing of them.
According to Krauss and Fussell (1996), communication theories relevant for social psychology can be separated into four classes: Encoder/decoder models like information theory (Shannon and Weaver 1949), Intentionalist models focusing on the task of understanding the speaker's intention instead of just the utterance meaning (e.g. speech act theory by Searle (1969)), models centred on the process of Perspective-Taking as an important aspect of conversation (e.g., models of feedback or the client-centred counselling strategy by Rogers (1951)). Last, Dialogic models treat conversation as socially dependent co-joint work of the interlocutors.
According to dialogic models, the main goal of an interaction is to accomplish a shared world view. This emphasizes topics of interaction control, meta-communication and discourse to prevent and solve communication problems and to establish grounding. For the application of user–ECA interaction, any usage beyond mere controlling services or devices will exhibit aspects of such social and co-joint activity. In fact, there is not much motivation to build ECAs for mere controlling tasks. However, the degree of human-likeness or naturalness a user assumes the ECA can provide represents a problematic issue. Users are heterogeneous in this respect and not only interact differently, dependent on expert knowledge and personality, but also evaluate the conversational quality differently due to diverging internal references.
Arguing on the basis of a dialogic approach (Clark 1996), the grounding problem is defined for ECAs in Brennan (1998): In addition to obtaining a shared world view in human conversation, one major goal of collaboratively working with an ECA is the negotiation about its verbal and nonverbal capabilities. This grounding process is currently not properly supported in interfaces based on natural spoken language, especially concerning signals of positive evidence and coordination of acceptance of system messages. Therefore, the interaction with spoken dialogue systems, embodied or not, is still inferior compared to approaches of direct manipulation, which intrinsically provide grounding mechanisms (e.g., visualization of capabilities due to labelled buttons in Graphical User Interfaces, GUIs), despite the theoretical advantages of ECAs and spoken dialogue systems providing "natural interaction" (cf. Section "Computers as social actors").
Still, the four approaches presented above do not necessarily differ concerning the topics studied, but they do provide unique views and theoretical assumptions. For example, back-channelling phenomena are investigated in at least three approaches, but they are not a likely topic for intentionalist models. Following major research areas tackled by these communication theories, topics for evaluation can be identified:
One central aspect of the dialogic approach is the inherent social nature of conversation. As relevant implication, evaluation based only on usability approaches is limited and likely to fail, as social processes have to be taken into account. In the following, the effects of persona, social facilitation, and visual/auditory attributions are presented to raise awareness and provide explanations for potential issues in human-ECA interaction.
Computers as social actors
According to Duffy (2003) robots need to have anthropomorphic, i.e. human-like qualities, in order to be capable of meaningful social interactions. If there is a human-computer interface exhibiting speech or also visual human features, human social behaviour, especially nonverbal signals, seem to be often triggered automatically (Sproull et al. 1996; Vogeley and Bente 2010). This might also be true for non-anthropomorphic interfaces to some extent (Reeves and Nass 1996), but a rich amount of empirical results has confirmed this effect for anthropomorphic and speech interfaces.
Persona effect: Concerning usability, ECAs are assumed to possess an inherent benefit over other interaction paradigms in HCI, as they provide "natural" and thus "intuitive" interaction as learned by humans throughout their whole lifetime, or to phrase it differently: ECAs could relieve users of the need to learn technical details of new technological services and interfaces (Takeuchi and Naito 1995).
This benefit of establishing a "natural", i.e. social situation, could be empirically observed, as the existence of anthropomorphic human interfaces, even those just accompanying traditional interfaces like web-sites, can result in a higher quality (more positive subjective evaluation) of the service or interface and/or in higher performance (efficiency and effectiveness measured as scores and time-to-complete). This persona effect, however, is highly debated, as it seems to be dependent on task, system, and situation (Dehn and van Mulken 2000; Foster 2007; Yee et al. 2007). Also, there is the question, whether the persona effect resembles an effect of mere presence like the social facilitation effect (see below) or if it is a result of a more natural and intuitive interaction.
At least, compared to pure spoken dialogue systems, ECAs can facilitate interaction (Dohen 2009), as human processing benefits from multimodal signals in decreased load and higher neural activity (Stein et al. 2009). So, if not engaged in multiple tasks, an ECA might be less demanding to interact with, if the nonverbal signals are produced and recognized well.
Despite this assumed and also observed persona effect, the design decisions and evaluation concepts concerning ECAs are not to be taken easily: As mentioned already, natural interaction can only have its positive effect, if it is supported well by the ECA, and visually human-like ECAs may fuel too high expectations for the dialogic and nonverbal capabilities. Although a natural interaction is aimed at and users do show signs of social phenomena, some users may like to avoid such social interaction for certain tasks in favour of a paradigm of direct manipulation; just like some customers prefer anonymous online shopping or self-service to personal service.
Therefore, the users' perspective on what the task is, what expectations are on the interaction, and how the ECA is perceived, are important to understand evaluation results. The social situation created by an ECA can also increase attention and even arousal on the user's side (see below), which led to the idea to provide an ECA as highly salient and interesting single interface for various services, e.g. domestic applications or guide for visitors in public spaces, although attention can of course also result in distraction from the relevant task (Takeuchi and Naito
1995
). Therefore, an additional evaluation topic is:
5.

Does the mere presence of a (particular) ECA improve the quality of the interaction for the given domain and task? In order to answer this question, a direct comparison would have been carried out, conducting either an empirical experiment or a field test with at least two conditions (cf. Section "Experiments and field tests").
In line with the persona effect, the presence of an ECA can, for example, result in increased entertainment in a game application (Koda and Maes 1996) and more nonverbal signals are sent in interaction compared to other interfaces (e.g., more eye contact interpreted as increased attention, cf. Takeuchi and Naito (1995)). Also, observations of social effects like politeness, impression management and social facilitation indicate that ECAs can indeed establish a social situation resulting in the automatic appearance of typical phenomena of social psychology (Sproull et al. 1996).
Social facilitation: With social facilitation, performance of a person is enhanced in the presence of other people for tasks of low complexity, while performance decreases for difficult, complex tasks. The latter is known as social inhibition. This has also been observed for interaction with ECAs (Sproull et al. 1996) and robots (Riether et al. 2012; Wechsung et al. 2012a). One explanation of this effect is an increase in attention and arousal due to the social situation (Guerin 1993). Social facilitation might be more likely for ECAs with gender different to the one of the user (Karacora et al. 2012).
Treating an ECA as a social actor might be used by designers and developers in order to increase attention (humans are aware of other social actors) and engagement (social interaction as motivation and reward for interacting with the interface), but they have to be aware of the possibility of social inhibition. A sixth topic of evaluation is thus:
6.

Differences in internal states and interactive behaviour due to the presence of an ECA. Studying this research area typically involves empirical experiments (Section "Experiments and field tests").
Attributions
There is a rich canon on human attractiveness and on its relevance for attributions. Although there are positive effects of attractiveness also for non-anthropomorphic interfaces (e.g., "what is beautiful is usable" Tractinsky et al. (
2000
)), attractive virtual humans might be easier to build than non-human attractive interfaces. ECAs can be built to evoke
attributions
of intelligence and competence, and increase attention. On the downside, stereotypes might apply, in relation to haircut, facial geometry, age, gender, skin colour; even clothes and speaking style have to be defined and cannot stay "neutral". However, this might result in the attribution of a personality (Nass et al.
2001
; Sproull et al.
1996
; Marakas et al.
2000
). Therefore, simple design decisions may result in incongruence with the user's expectations for the service or impression of the brand. Therefore, a last evaluation topic can be named:
7.

Studying attributions and attitude formation due to characteristics of an ECA. For this topic, the particular situation, defined by user, domain, task and application have to be taken into account. As for Question 6, this question is typically addressed by conducting empirical experiments (Section "Experiments and field tests").
Uncanny valley: One particular risk when aiming at human-like interfaces is the uncanny valley effect: This effect describes an increase of the perceived familiarity with increasing resemblance to human appearance only until a certain level of human-likeness is reached. However, small divergence from human-likeness results to an uneasy feeling. At that level, familiarity drops and increases again if the human-likeness is perfect (Mori 1970). The uncanny valley effect can even be observed in neural activity (Saygin et al. 2012). The authors conclude that the uncanny valley effect may be based on perceptual mismatch: For very human-like robots equally human-like movements are expected. However, if those expectations are not met, the uncanny valley effect may occur. This dependency of the effect on the expectation of (and reference as) a real human is the reason to present it along with attributions in this subsection.
Whereas the evaluation topics 1–4 are related to special aspects of an ECA or robot, topics 5–7 are about using an ECA or robot at all. The subsequent difference lies in the possible evaluation methods, as answering questions within topics 5–7 requires a comparison with a non-embodied condition. In the following section, we briefly describe evaluation methods with and without real users and present typical assessment methods, before describing specific instruments to assess concepts of interest in Section "Aspects of evaluation".
Evaluation and assessment methods
According to
Preece et al. (1994
) evaluation methods can be distinguished using four different criteria.
1.

The question addressed with the evaluation;

i.e.:

to see if the system is good enough

to compare two alternatives and to see if one system is better than another one

to get the system closer to the real world

to see how well the system is working in the real world or

to see if the system complies to certain standards

2.

The particular stage in the engineering cycle; formative, process-oriented evaluation can be distinguished from summative, goal-oriented evaluation

3.

The user involvement; with user-centred, empirical methods on the one side, and expert-centred, analytical-formal methods one the other side

4.

The type of data collected (qualitative or quantitative data)
In addition to the last criterion, direct and indirect measurements can be distinguished in the context of usability and quality evaluation (Wechsung et al. 2012b). Direct measurements are assessed directly from the user. Indirect measurements refer to manually annotated or instrumentally obtained data (i.e. automatically logged interaction data or physiological parameters).
Established usability evaluation methods are already presented elsewhere (e.g. Noor (2004)). Therefore, we focus on methods explicitly used with ECAs or adapted to them. Also, evaluation data obtained from experiments are covered here in more detail. These include questionnaire and interview data, as well as data obtained indirectly, i.e. by recording log-files, recording or annotating user behaviour, etc. For the case of indirect measures, the examples of eye-tracking data and interaction parameters are presented. Particular questionnaires are referred to in the appropriate paragraphs of Section "Aspects of evaluation", where the quality aspect assessed by each questionnaire is described.
Aspects of evaluation
Some requirements and issues to consider when n ECAs are presented in Ruttkay and Pelachaud (2004). For a start, decisions on user characteristics and evaluation criteria should be made explicit (Ruttkay et al. 2004). Therefore, we concentrate on user characteristics not described there, first of all mood and needs.
User characteristics
Before evaluation studies are conducted, the targeted user group and their characteristics need to be defined. In the following paragraphs relevant individual characteristics are explained and respective measurement instruments are presented either to confirm the target group or to cluster users.
Usability concepts
In this paragraph, the judgemental processes leading to the formation of quality, as well as quality aspects or concepts relevant for the usage of and interaction with ECAs are presented. The structure is based on the third layer of the taxonomy for multimodal systems (Wechsung et al.
2012b
). Where appropriate, evaluation dimensions from (Ruttkay et al.
2004
) are associated (cf. Fig.
2
).

Best practice and example evaluation
Hands-on issues
The main goal of a usability evaluation is to identify possible usage problems beforehand. This section gives hands-on issues to consider, based on a recommendation (VDE-ITG-Richtlinie 2011). Information on treating participants and their data can typically be found in ethics regulations of national research councils.
One important prerequisite is that the internal structure of the system is unknown to the user. Thus, discrepancies between the assumptions and expectations of the user and the developer can be identified. This entails that the evaluation should – at a certain point – be carried out without active involvement of the developer since the influence on test procedure and/or participant can have a strong impact on results.
A multitude of usability problems arises from intransparent functions and badly designed (e.g. unnatural) visual or verbal information. A first option to uncover flaws of this kind is to let the current implementation be reviewed without bias by a colleague. This "internal evaluation" quickly reaches its limits as colleagues are often too familiar with the capabilities and logic of the ECA in question and thus do not evaluate impartially.
User tests are more costly than evaluations done by experts. At the same time it is astounding which unforeseen flaws can be uncovered by a naive user. Therefore, user tests are expedient especially for new and unusual products. Test users should correspond to the expected main user group concerning age, gender, educational background, experience with technology etc.
The quality of usability tests depends on the selection of tasks the user has to fulfil. The tasks should be precisely worded and representative for later usage. The task description should neither evoke unrealistic scenarios nor hint implicitly at the favourable approach.
The investigator should be recognizably "neutral". If this is not the case, it is possible that by suggestive questions or hints the test user is guided towards the correct solution. Also, the participant might rate the product positively believing that this is socially desired.
Furthermore, user tests (but not expert evaluations) are only of limited informational value if the function or interface is not fully functional yet. This is due to the fact that users have often difficulties imagining interaction steps which are not implemented yet, or else expect those to function perfectly. In this case the tasks should be chosen such that only already implemented functions are necessary.
User tests with application- or system-versions which are functionally not stable are of limited relevance as a user will either include system crashes in her judgement (even when asked not to do so) or else doubt the seriousness of the evaluation.
Usability tests of prototypes for which only minor adjustments are still possible should be avoided. If users realize that their suggestions for improvements have not been adopted they often react with an increased rejection.
Guideline to setting up an evaluation study
When planning an evaluation it is recommendable to answer the following questions (cf. Sonntag et al.
2004
) one after the other and as thoroughly as possible:
purpose: what shall be achieved by the evaluation?

object: what is the test object (system)?

time: in which development stage shall the system be evaluated?

method: which method is suitable to reach the relevant goals?

participants: who will be test users and how will they be found?

help: which kind of help shall be offered to the test user and to what extent does the experimenter offer support?

function: which functions are under test and what are the suitable tasks to evaluate them?

At which point is a task successfully finished?

Under which conditions can a task be abandoned?

results: which data will be assessed and how? How will the data be analysed?

setup: what kind of equipment is necessary for the evaluation (additional hard- or software, such as cameras or microphones)?

Where and when shall the study be carried out?

How long shall each run take?

Who will be conducting the evaluation?

How many participants are needed and how shall they be compensated?
Unfortunately, no answers are given in Sonntag et al. 2004. We tried to provide a starting point to answer some of these questions, i.e. on purpose (cf. the four evaluation topics in Section "Communication theories" and the four psychological effects in Section "Computers as social actors"), on method (cf. Section "Evaluation and assessment methods" on methods and Section "Usability concepts" on concepts to assess), and on participants (cf. Section "User characteristics" on user characteristics). For the remaining questions, it is advised to examine the methods applied in studies similar to the one planned.
An experiment testing two different talking heads
This experiment is basically a replication of an existing German one (Weiss et al. 2010) conducted for Australian English speaking participants (approved by the UWS Human Research Ethics Committee). The aim was to validate an English version of a German questionnaire to assess the perceptual quality of different talking heads. The main concepts of the questionnaire are Ease-of-Use and Joy-of-Use. In order to induce variance in ratings, we tested four different versions consisting of two different visual models and two different voices. All versions were presented to 18 participants (4 men, 14 women) as metaphors of a spoken-dialogue system controlling a smart living room. The age of the participants ranged between 18 and 48 years (M = 24.61, SD = 6.95). For their attendance they received either money or course credit. The participants were seated in front of a table inside a laboratory room which is designed for audio and video experiments. There were two screens (19") placed side by side in from of the participant. The metaphor was displayed on one. On the other screen the participants received visual information simulating feedback from an answering machine and an electronic program guide according to the task.
The participants interacted via headphones with the metaphor using free speech (instead of a fully functional system, the speech recognition and part of the interaction control was replaced by a human operator, called Wizard-of-Oz paradigm). They were asked to complete a domain-specific scenario consisting of seven different tasks with each of the four metaphors (head and voice combinations). These tasks were grouped in an answering machine scenario consisting of three tasks and an electronic program guide scenario consisting of four tasks.
The dialogue flow was controlled: the tasks were written on separate cards and offered to the participants in a predefined order. Every participant had to carry out both scenarios once with each metaphor. To avoid boredom the tasks were altered slightly in expression and content while the level of difficulty of each task remained constant. The order of scenarios was varied between participants.
After each scenario, a brief quality assessment was conducted. After both scenarios, participants had to fill in an English version of an early version of the CAS questionnaire (Wechsung et al. 2013) based on the complete interaction with one metaphor version.
The most interesting result is the evaluation of the English CAS version. Based on Cronbach's alpha, the translation into English can be confirmed in general, but there are differences to the German version. First, some of the items are better removed to obtain higher
α
values. Second, for some subscales,
α
is too low:
Helpfulness (α=.78;.79 without "meaningful"): impractical–practical, helpful–not helpful, destructive–constructive, useless–useful, meaningful–meaningless

Naturalness (α=.90): real–not real, human like–artificial, unnatural–natural, unrealistic–realistic

Trust (α=.61;.76 without "candid"): candid–uncandid (try: "sincere–insincere" (Wechsung et al. 2013)), honest–dishonest, non credible–credible, trustworthy–untrustworthy

Perceived Task Difficulty (α=.75;.76 without "exhausting"): exhausting–not exhausting ("taxing" provided as alternative (Wechsung et al. 2013)), undemanding–demanding, non laborious–laborious ("effortful" provided as alternative in Wechsung et al. (2013)), easy–difficult

Likeability (α=.73; due to an error we did not include "I was pleased", i.e. "likable" in Wechsung et al. (2013)): pleasant–unpleasant, friendly–unfriendly, likeable–not likeable (or agreeable–not agreeable (Wechsung et al. 2013))

Entertainment (α=.68;.79 without "conventional"): diversified – monotonous (not monotonic (Wechsung et al. 2013)), lame–enthralling, unconventional–conventional, boring–entertaining
Apart from this first step towards a validated English version of CAS, this experiment also exemplifies one possible usage of eye-tracking data. Data from 16 participants was analysed. As two separate screens were used, it was of interest to obtain information on the amount of time a participant looked at the ECA screen, measured as time the eyes were tracked, which was less than 50 %. The assumption that missing data was most widely originated by the users looking at the second screen or reading the task instruction could be confirmed during the experiment.
Results show a significantly lower amount of time looking at the ECA screen for one particular facial model, but no effect for the two voices used (cf. Fig.
3
). As there was no initial hypothesis, final interviews with the participants were analysed to find a reason for this difference in eye-tracking data. The results suggest that those participants familiar with model A concentrated more on other visual information, i.e. the second screen or the task descriptions. For the domain of a smart living room, the results motivate to study the development of user experience with ECAs over time more closely. The question raised is, whether initial evaluations are still valid after familiarization. However, this will require field tests instead of laboratory experiments (cf.
Ring et al. (2015
) for an example of a one week ECA evaluation for elderly users).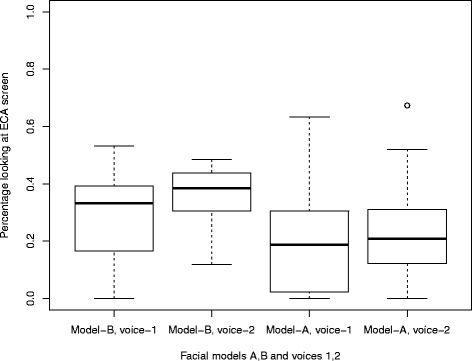 Conclusion
We presented different motivations and topics of evaluations, as well as methods and assessment instruments to conduct evaluations. Nevertheless, evaluating multimodal interactive systems, especially ECAs, is a broad field that can hardly be covered by a single article. Therefore, we concentrated on evaluative concepts and those methods related to usability. Highly recommended for further reading are the comprehensive book by Bernsen and Dybkjær (2009), the edited volume by Ruttkay and Pelachaud (2004), including not only conceptual, but also exemplary studies (Hone 2006; Poppe et al. 2014; Stevens et al. 2013) as examples for more fundamental experiments.
Declarations
Open Access This article is distributed under the terms of the Creative Commons Attribution 4.0 International License (http://creativecommons.org/licenses/by/4.0/), which permits unrestricted use, distribution, and reproduction in any medium, provided you give appropriate credit to the original author(s) and the source, provide a link to the Creative Commons license, and indicate if changes were made.
Authors' Affiliations
(1)
Quality and Usability Lab, Deutsche Telekom Innovation Laboratories, Technische Universität Berlin, Berlin, Germany